Welcome to Manhattan, New York!

Home of Goliath's clan(which is owned by Buena Vista)!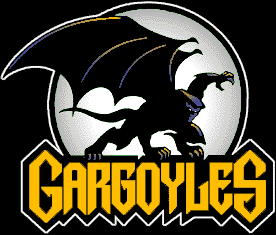 Hello, my name is Princess Jasmine. I bet you're wondering what I'm doing on a gargoyles page, especially this one. Well, believe it or not, I was on a... oh, why explain it, when you can read about it. Below, are stories of the clan, told from my point of view. There are also other characters you might recognize throughout the stories. So, pick a story and get reading!
Manhattan-- Read the story that started it all. Jasmine wants to explore the world....on her own.
Castle In Disguise-- Who lives in this mansion? Jasmine is about to find out!
Broken Stone-- Can gargoyles be flesh and blood during the day? Read on and find out.
A Visit From the Outside World-- Something's happened to the male members of the Voltron Force. Find out what.
The Start of a New Life-- Who will start a new life? Read on.
A Lighthouse In the Sea of Time-- Rewrite of the Gargoyles episode.
"The Mirror"-- Rewrite of the popular Gargoyles episode.
A Gargoyle Christimas-- Read about how the gargoyles learn about a modern Christmas.
A New Friend to the Clan-- The clan makes a new friend. Find out who it is.
A Sense of Duty-- One of Jasmine's fears has happened. What could it be?
A Lesson In Gliding-- Jasmine helps the Voltron Force teach Nanny and Coran to glide.
Appearances-Matt is turned into a gargoyle. But, who is responsible?
Security-A search for Goliath yields a startling revelation.
"The Reckoning"- A rewrite of the gargoyles television show.
Honesty and Deception- Jasmine and Brooklyn discover a female gargoyle duped by Demona. Can they make her see Demona's deception?
"Somewhere"- a third-person music fic, but it fits the plotline.
Reunion- Jasmine is reunited with Aladdin and their friends. Plus a few surprises are in store for our heroine
Changes- The time of the baby's birth has arrived and Jasmine makes peace with the clan's greatest enemy.
Addition- Elisa's and Goliath's love blossom and bloom and Jasmine is given a wondrous gift.
Worlds Collide- Jasmine surprises Demona and makes a new friend
Families- Aladdin is missing and Jasmine and Angela make a shocking discovery.
Father and Son- Aladdin has a pleasant surprise in store for him.
A Twist of Fate- Jasmine gets a surprise of her own this time.
Coming Home- Jasmine and Aladdin finally pay home a visit.
New Worlds- A spell from Alex sends Jasmine into a new world where she makes some new friends.
Mutated-Jasmine spends the day with Kayla and Joyce
"Thundercats, Ho!"- a rewrite of the Thundercats movie
Friends-Jasmine spends the day with Demona and befriends Demona's greatest enemy
From Third Earth to Manhattan-The Thundercats visit Manhattan and have a scary adventure.
Into the Sun-Jasmine and Brooklyn get an unexpected surprise
Trial of Combat-Lion-O faces Jasmine in her trial
The Lord and His Queen-Jasmine meets the king and queen of the third race.
Secrets Learned-Another adventure with the Thundercats, plus an unexpected secret.
Responsiblity-Jasmine pays the Voltron Force a visit.
Children-The time of Jasmine's child's birth has arrived.
Trust-A lesson with Puck sends Jasmine into another dimension.
Enchantment-A new human could mean the end of the Thundercats.
Timedancer-Jasmine's and Brooklyn's love may come to an end